Clever Lotto: Mega Millions & Powerball – Review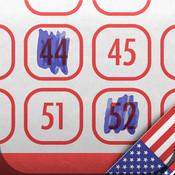 Our rating:
By: Formigas
Version #: 1.0.2
Date Released: 2012-10-15
Developer: Formigas
Price: 0.99
User Rating:
If you are one who plays the one of the two big multi-state lottos, Mega Millions and PowerBall, then you are probably looking for a tool to help you track and follow the results.
Clever Lotto is a tracking tool for the iOS that will show you the current and past results of either lottos. The starting screen has a nicely layout that shows the current jackpot and current numbers for both lottos. The top of the screen offers a settings panel as well as easy access to adding new tickets.
The new ticket screen doesn't offer any way to input the tickets except manually. You can name each ticket for organizational purposes. You can add up to twelve sets of numbers and can set the ticket for up to twenty-six draws. Numbers are taps from a grid, or if you just want random numbers you can shake the phone to give you a random set. At the bottom is the total cost of the ticket as you set it up.
The next tab gives you the past draws and tapping on them gives you a break down on the winners for each level. The third panel if you current tickets. From here you can edit or delete you tickets as needed. Another feature of Clever Lotto is the share button. You can share your results vis the usual suspects, or you can actually email the ticket to someone else. An attachment is added that the user can tap on to import a ticket into another device running Clever Lotto.
Finally, the Statistics page offers a nice break down on your spending, and hopefully, winning. You can see what numbers you have played the most. There is also a general statistic which shows the numbers most and least played. If you are someone who likes to play the odds, but feel disorganized with your tickets, or perhaps you keep forgetting to check your results, then Clever Lotto is just the…ticket! It will even give you a notification of when new numbers have been drawn for a ticket you bought. So do yourself a favor and buy one less ticket today and pick up this app. If you are one of out Euopean readers, there is a version available that works with Lotto 6aus49 and EuroJackpot.
Quick Take
Value:High.
Would I Buy Again:Not really my thing.
Learning Curve:Easy.
Who Is It For:People who play the lotto.
What I Like:Nice interface, easy to read statistics.
What I Don't Like:No way to add tickets without manually tapping numbers.
Final Statement:Clever Lotto is just the ticket for the jackpot hound.
Read the Developer's Notes:
Description
Track your Mega Millions & Powerball games with Clever Lotto. Results, notifications, statistics and much more!

? ALWAYS UP-TO-DATE
See the latest results and jackpots or simply add your tickets to check your winnings. If you're feeling lazy, just shake your device and let the magic happen - Clever Lotto will generate random numbers for you. It has never been easier and quicker to know all about Mega Millions and Powerball.

? NOTIFICATIONS
Various notifications let you stay on top of all lotto events. You'll instantly get informed about your results after each draw. Besides, Clever Lotto reminds you to renew your tickets when they're about to expire. And most important: don't ever miss a big jackpot! An alert will inform you when it's time to really get in the game.

? STATISTICS
You always wanted to know how much you've spent or won playing lotto? Ever wondered how long ago it was that a particular number was drawn? These and more questions are extensively answered in Clever Lotto. The app keeps track about personal and general statistics for you.

? SOCIAL
Let your friends know about your luck and have some fun together. You can share your results via Twitter, Facebook or e-mail. Playing lotto with other people? Just e-mail your tickets so they can directly import them into Clever Lotto.
Nathan has been an avid Apple user and advocate since the days of the Apple ][. He has always sought to find new ways to make use of technology to assist his daily life. As a paramedic in southern California Nathan brings his familiarity with technology to the field, and at whatsoniphone.com he brings his critical thinking to he analysis of apps and news. You has also written app reviews for the mobile app site Smokinapps.com.
nathan-kline has written 110 awesome app reviews.