Mutant Fridge Mayhem – Gumball – Review – Cartoon Network is at it Again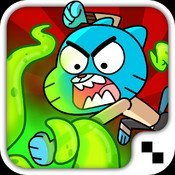 Our rating:
By: Turner Broadcasting System, Inc.
Version #: 1.0
Date Released: 2012-12-13
Developer: Mutant Fridge Mayhem - Gumball Support
Price: 0.99
User Rating:
Mutant Fridge reminds me a bit of the Adult Swim games, which go for humor and irony as well as game play.  Unlike Adult Swim, Cartoon Network games are versions of the television programs on the network.  In this case, the game is from The Amazing World of Gumball on CN.
The premise is that the main characters have to fight a horde of mutants from another character's refrigerator who left some jelly in there from 1982.  As mention, humor is involved.  You fight the mutated food as Gumball and his friends Darwin and Anais.
The game itself is very cute and the look of the zombie food is particularly humorous.  Each character has its own special capability consistent with its personality.   Naturally, Cartoon Network still needs to keeps its revenue stream up, so in-app purchases of additional character capabilities are possible.
Game play is somewhat awkward with the left half of the screen being for moving and the right half being for attack.  I kind of wish they used virtual controls on the screen like other games.  However, being marketed for kids, I understand why they designed it this way.  There are cute interstitials during the run of the program that explain the plot of the game.
This sort of 2D move and attack game is all over the gaming landscape.  Cartoon Network itself has multiple games in this format.  However, you could do a lot worse for a buck.  If you or your children is a fan of the show, I recommend this one.
Quick Take
Value:Medium.
Would I Buy Again:For myself? Probably not. For kids? Probably.
Learning Curve:Low.
Who Is It For:Kids and Gumball fans.
What I Like:Cute design. Simple to play.
What I Don't Like:Gaming controls can feel awkward to adults.
Final Statement:Mutant Fridge Mayhem could happen to anybody.
Read the Developer's Notes:
FOOD FIGHT! Team up as Gumball, Darwin, and Anais to take down the mutant leftovers! Available for iPhone 3GS, 4, 4s, 5; iPad; iPad Mini; and iPod Touch 3, 4 and 5.

DESTROY ALL LEFTOVERS!
Dad's expired jelly has mutated everything in the Watterson's refrigerator! Now Gumball, Darwin, and Anais are all that stand between Elmore and total mutation domination! Dish out the destruction across 30 different levels!

CHOOSE YOUR CHARACTER!
Switch between Gumball, Darwin, and Anais to defeat swarms of mutant food. Each character has his or her own special abilities. Gumball throws a rampaging temper tantrum; Anais uses the power of Daisy the Donkey to heal her teammates; and Darwin uses a bubble shield to block attacks.

MANLY POWER-UPS!
Man up! Give your characters manly mustaches to transform them into burly fighters. Or lock and load with the tennis ball cannon. That rotten grub won't stand a chance.

MUTANT FRIDGE MAYHEM - It's the ultimate food fight!

**********************************
Terms of Use: http://www.cartoonnetwork.com/legal/termsofuse.html
Privacy Policy: http://www.cartoonnetwork.com/legal/privacy/mobile.html

**********************************
If you're having any problems with this app, feel free to contact us at advanced.platforms@turner.com. Tell us about the issues you're running into as well as what device and OS version you're using.
Article By BradT
bradt has written 504 awesome app reviews.